Rev. Ben Roberts
Director of Training
Born and raised in Ohio, there is a soft spot in Ben's heart for Mid-Western life. Growing up, he loved cycling, running, and his part-time job at a farm (he was the cow-milker). Ben went to Wheaton College for his undergrad, where he studied Theology. More importantly, he met his wife Karyn there. After graduation Ben and Karyn spent three years in Connecticut. Karyn served as an English teacher; Ben worked as the youth minister in an Episcopal Church. In 2008, Ben and Karyn drove to Vancouver, where he began work on his MDiv at Regent College, while doing an apprenticeship with Artizo. Ben was able to enter into full-time ministry with St. John's Richmond in 2011 and was ordained a priest in the Anglican Communion on February 5th, 2012.
Susan Norman
Trainer
Susan has been teaching the Bible for many years to women in a variety of women's groups, to university students, to youth and seniors, in churches, university campuses, at retreats, and in her home. She has a long history of training Christian leaders. Susan has a long history working for Inter-Varsity Christian Fellowship and currently works with IVCF mentoring, training, directing, and participating in ministry with leaders and students. She has a deep love for God and a sincere passion for his work.
The Artizo Institute started in 1998. We have mentored and trained 99 faithful ministers, 81 of which are in paid ministry.
Currently, Artizo is refocusing its efforts by renewing its training curriculum to deepen and intensify 'learning-by-doing', reorganizing its structure, and refreshing its engagement with St. John's Vancouver and other churches and church organizations.
Artizo aims to fill Canada
with the sound of God's word
WHY SHOULD I HELP?
In a noisy world clear communication of God's love in Christ Jesus can easily be stifled. By helping Artizo you are partnering in the work of the Gospel by training leaders to go out and share the good news in ways that are honest, contemporary and effective.
THE TRAINING CHURCH
An Artizo apprentice receives training and mentorship from Artizo Trainers as well as from the rector of the training church. In this article, Rev. Ben Roberts, Rev. Sean Love and Artizo Chair Lesley Bentley speak about six different aspects of a training church. read more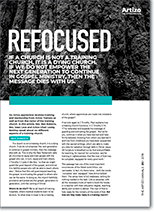 5th Generation – The Imperative
The gospel is death defying. Not just because it brings us eternal life through Jesus Christ, but because we defy the power of death by training up others who are able to pass the gospel of life to the next generation. It is a critical investment of our time, prayer and resources. It is a clear New Testament expectation, priority and imperative. read whitepaper
Board of Directors
Overseeing the vision and mission of the Artizo Institute, the Board of Directors works behind the scenes to keep the organization on track.
Rev. Canon David Short
Executive Director
Lesley Bentley
Director & Chair
Rev. Sean Love
Director & Secretary
Anita Anderson
Director & Treasurer
Alexandra Richmond
Director
David Howard
Director Emeritus
Peter Jefferson
Director Emeritus
John Mackay
Director Emeritus
Dr. Ronald McNeill
Director Emeritus