"WE'RE NOW 1,500 PEOPLE ON SUNDAYS, WITH FOUR CAMPUSES ACROSS LOS ANGELES – JUST EIGHT YEARS AFTER THAT FIRST EASTER SUNDAY
Artizo profile: Rev. Ger Jones
Years at Artizo: 2004-2006
Status: Rector, Vintage Church, Santa Monica, CA
REV. GER JONES
I attended Regent College with the aim of doing general pastoral ministry. Part of the discernment process at St. John's Vancouver (where I was an Artizo intern) led me to be ordained into the Anglican Church.
After Regent and Artizo, I was invited to complete a curacy in Holy Trinity Anglican Church, Raleigh, North Carolina. We were there for three years; I became the interim rector after a year, and after two years, we didn't feel God calling us to stay. So I connected with Todd Hunter, who is an Anglican Bishop in California, to explore what opportunities existed there. He encouraged me to consider planting a church in Los Angeles – and it was really that invitation from Bishop Todd that began it all.
Once we understood the call to plant a church in Los Angeles, we realized that it was going to be a 'parachute' church plant, that is, there were no people, there was no money, building or resources – nothing. We were going to be in a city where we didn't know anyone, where we had no existing network, where we would have to generate everything from scratch. So, in my final year in Raleigh, I listened to every podcast, every lecture on church planting, and developed quite a detailed launch plan on how to plant a church in a city where you don't know anyone.
For a year we raised funds so that I would have a salary until the church could be up and running. That fund-raising included travelling to various churches in various cities, doing 'vision dinners' and inviting people to sponsor a new church in LA.
Then, about six months before the family moved to LA, I flew there every week for three days to meet with people and to generate interest in the church plant. I used multiple connections and lots of networking to try to find anyone who would be interested in talking with me about the spiritual climate in Los Angeles and what it would be like to be a Christian living there. That involved cold-calling as many people as I could to see if they would have coffee. Out of the 6 or 7 meetings each day, I found, in the sovereignty of the LORD, people who would help and support the new church plant.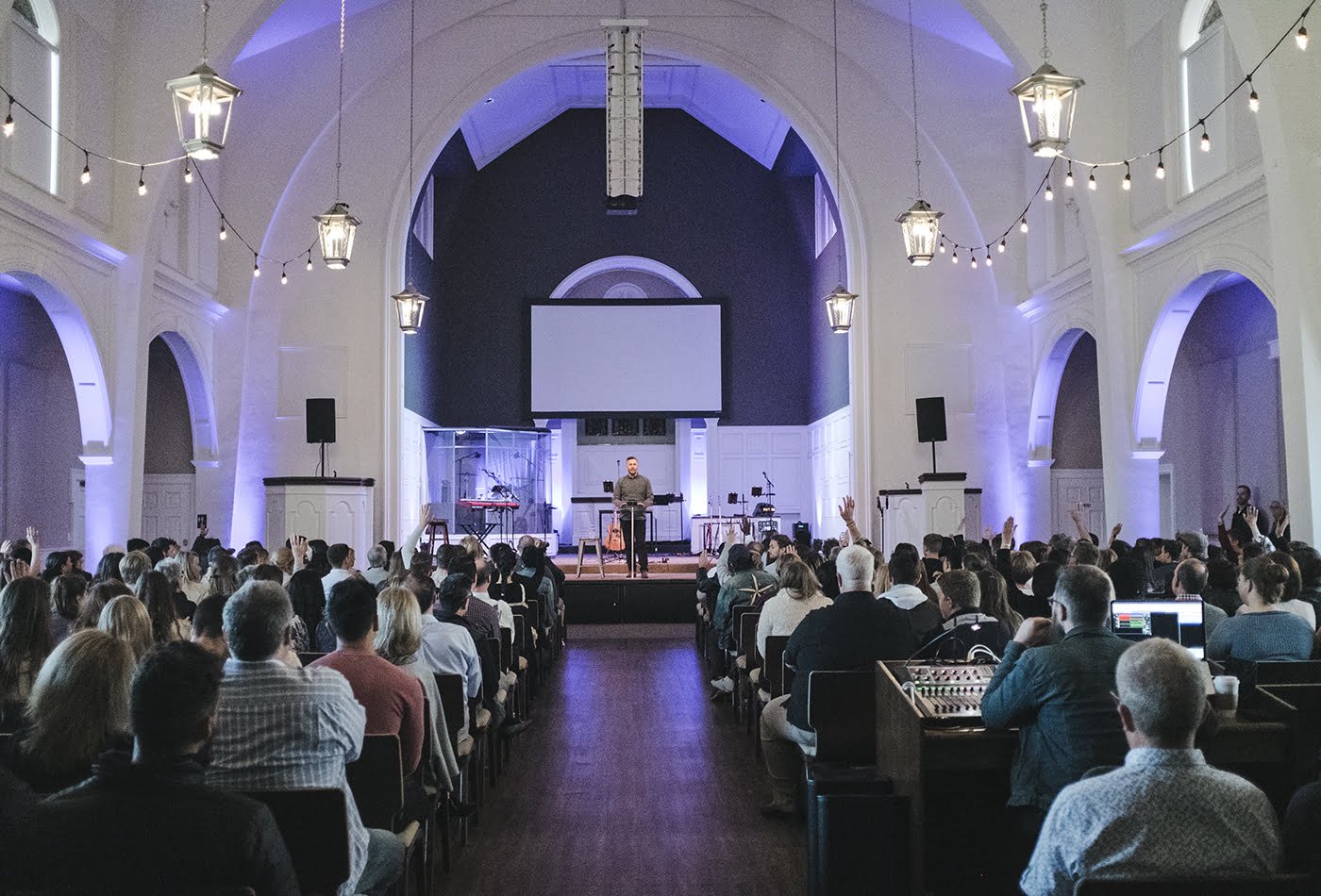 By the time we moved to LA, we had cultivated a team of 20 people who miraculously grew out of those coffee meetings. We arrived and moved to the next phase of the launch plan, which was to launch the church during Easter 2011.
Our story of buildings shows the sovereign answer to prayer. I was 'prayer walking' the community in which we were going to plant a church and, as I passed a Lutheran church, I felt the LORD say very strongly that there was going to be some kind of significant relationship with that church. I went back to where I was staying, and a couple of people whom I had already connected with said, "Hey, it's Sunday night, let's go and worship with this church plant in the area. They're meeting at the Lutheran church building up the road." I didn't really want to go out, and I was in a bad mood thinking that there's already a church plant just starting in the area where God had called us to plant a church. Despite my grumpiness, I went.
Miracle #1 At the church, we encountered 15 people listening to someone I assumed was their pastor, and he was saying: "Well, as you know, we've been looking to plant this church in Santa Monica during the last six months. Last week, I announced that I am unable to lead the church plant because the church I am from prefers I stay there rather than plant the church, and I feel God calling us to do that. So, if this is going to continue, we need to really quickly find someone to take over what has already begun – the early development of this young church plant. This person needs to be funded already because we don't have any money, they need to be here pretty much now, and they need to have the same spiritual DNA." And then he repeated the DNA, which was identical to ours: strong in the Gospel, strong in the Word. And in fact, we found they had the same relational network that I had. Although we had never met each other, we came out of the same spiritual community. So, on that Sunday evening, we went from 15 to about 30 people. That church community invited me to take over, the people we had already gathered merged with theirs, and that was the venue we used for the pre-launch services leading up to Easter.
But the Lutheran church building was only available in the evenings. Two weeks before Easter, I said to the team, "We need to have the Easter launch in the morning because that's when most people go to church here. I don't know how we are going to find a building in two weeks. It's very hard in Los Angeles to find any buildings. Let's pray.".
We did three preview Sundays. The 20 people whom I had gathered helped with greeting people at the door, and helping people with children. I persuaded Dave Abel, another Artizo graduate, to help me during the first six months. He was an amazing blessing to us.
Miracle #2 I had made a point to introduce myself to other pastors in the area, meet them for coffee and pray for them. The pastor I met with the next day, who was from a church with an amazing building, said to me during the conversation, "Oh by the way, we are moving out of our building next week, we don't know if you're looking for a Sunday morning venue, but if you are, we've outgrown ours. It's brilliant, and I am sure you can take it over." I asked them when it would be available. They said Easter Sunday. And so, I spoke to the landlord, and we launched on Easter Sunday in that church.
We did three preview Sundays. The 20 people whom I had gathered greeted people at the door and helped people with children. I persuaded Dave Abel, another Artizo graduate, to help me during the first six months. He was an amazing blessing to us
From that point on, it was the normal steady growth you need in a church plant – building a staff, finding venues, marketing, creating a website, and so on. You go from being the main person doing everything, build slowly year by year, to the point where you can begin to delegate responsibility to other people. On that Easter Sunday in 2011, we were 30 people and two years later we had grown to about 300.
Miracle #3 In a Q&A session, one person said to me "Do you think we would ever buy a building?" I said: "You know, I don't think we want to take on that debt. We're living in one of the most expensive cities in the world, but if God wants to give us a building, that would be amazing!" I said that tongue-in-cheek, but the next day, we received a random email from an elder of a Baptist church in Santa Monica inviting us to merge with them and take over their building. The church was a beautiful gospel-centric church with very few people. Their pastor was retiring. After long conversations with them over the course of a year, they invited us to take over their building, take over their property, and they would just merge into being part of our church. And so we took over that building in 2014. It was an amazing miracle. We now have a debt-free building which holds 700 people in the sanctuary, it has a children's ministry wing, a discipleship wing, and a preschool which we turned into a family centre. Every step of the way, God's sovereignty and grace has blessed us as we looked for venues.
But we are fundamentally about growing from conversions rather than growing through transfers from other churches. Whenever people that commute to our community to attend church express a desire to have a church more locally, we say a simple prayer: "LORD, if we see conversion growth in that community, we will plant a church there." So we invite that local community to meet at Vintage in something we call an Alpha – which is an introductory course for people investigating Jesus. And if, after running that course, people see that friends and neighbours are coming to Jesus, then we'll plant a church there. Where people say "come and help", that's where we'll plant a church and start to put a team in place. We have a very rigorous and thought-through five year plan to develop self-sustaining local church campuses. They are not centrally run. They begin that way, but after five years, they will have local pastors and ministers.
At our eighth anniversary after that first Easter Sunday, we're now 1,500 people on Sundays, with four campuses across Los Angeles. It's been exciting, it's been a story of very hard work, lots of prayer, and all in the climate of grace and sovereignty of God.
Artizo was crucial for my training in ministry. Artizo was the only place I encountered experienced practitioners helped me translate my theological training into practical ministry training. I was a lawyer and a businessman for 10 years. I have a lot of organizational experience. But Artizo was the place that turned me into a practical pastoral leader of a church community, helping me integrate theology and organizational leadership in ways that serve the community.
The training ranged from how to be theologically driven and not pragmatically driven in ministry, to the practicalities of how that worked – the practical areas of church. It also exposed me to the challenge of how to provide pastoral housing in the very expensive global city of Vancouver, and how to grow and transition staff. Basically, I was invited behind the scenes, and taught how to practically shepherd.
When I started in my role in Raleigh, I was already up to speed. Artizo was the crucial transition for me from theory to practice, integrating it all – this is how you lead a church. Not only was it crucial in leading the church in Raleigh, but also it was vital in strategizing, in leading, and now shepherding this church plant in Los Angeles.
I look at the infrastructure of how Artizo is designed; that same infrastructure, and the same training priorities and concepts, I now reproduce for all the young leaders here. This is an excellent way to train future church leaders who are actually going to survive and endure.
Once a young seminarian starts ministry, he doesn't have the time for the intense equipping that Artizo provides. Most seminarians move into ministry and give up after a few years, so the crucial need is how to prevent that drop-off rate. I am convinced that one of the ways we retain pastors in ministry and see them be not only faithful but fruitful is through the training that Artizo provides.
The great gospel need of reaching our post-Christian, post-modern generation requires gospel-centred pastors who are well trained in the practical aspects of leadership, churchmanship, preaching, and planting churches. I don't know any other apprenticeship program that does that better than Artizo.
100 + 21 = 10,369? Supernatural math? We now have 100 Artizo graduates trained over the last 21 years, the majority of whom are in full time ministry. The product of the formula is an educated guess at the number of people who regularly listen to an Artizo minister teach and preach. With God's help, Artizo will continue to obey the New Testament imperative of entrusting the Gospel to faithful men. We continue to trust God for supernatural results.
Rev. Ger Jones planted the Vintage Church in 2011. The Vintage Church now has four locations and serves over 1,500 parishioners. Ger had been a practicing lawyer in the UK for 10 years before obtaining his MDiv Degree at Regent College. Ger and his wife Lizzie, and three children Amy, Naomi and Sam live in Santa Monica, CA.